Many of you have asked me for recommendations of the best spots to imbibe in Chicago, and it's time to finally start sharing my favorites with you with the depth they deserve. Every time I try a new spot, I can't help but feel extremely thankful to live in Chicago – the industry here is so full of creativity yet everyone I've had the pleasure of connecting with has been welcoming and passionate in an approachable way. Expect to see a mix of local brands and bars as I travel around town with my good friend and talented photographer, Belen, to give you a glimpse into the vibrant Chicago booze scene.

First up is CH Distillery, an independent craft distillery located in the food and beverage paradise of the West Loop. I initially set foot in CH several years ago when I worked downtown and have enjoyed every recurring visit and product purchase since. There are two things I appreciate most when it comes to distilleries: creativity and ingredient quality. CH ticks both items off the list with a dynamic collection of offerings, local collaborations, a foundation of organic Illinois grain, and a commitment to using as many ingredients as possible from within an hour's drive of Chicago.

Their flagship vodka is a silky smooth blend of rye and winter wheat, and I love that it offers enough flavor to appreciate the grains while still being easy to mix with. Most of their other spirits, both core and specialty, are built off the same vodka base – some of my favorites are the Key Gin (made with key limes) and the Aquavit.

While they offer a solid line-up of base spirits, CH truly shines through their liqueur and amaro experiments. For example, they've create a fantastic trio of bitter liqueurs with the help of the local cocktail consulting experts, the Dogma Group:
Their own take on Fernet
Rubin (with flavors of wormwood and grapefruit, essentially a much more palatable malort),
Bitter Dog (with flavors of rhubarb and wildberry)
In addition to these, they offer a spiced amaro, peppercorn-infused vodka, homemade limoncello, a coffee liqueur collaboration with one of my favorite local roasteries (Dark Matter), and more ever-changing nerdy booze concoctions.
I've typically picked up their products at Binny's but I also strongly recommend checking out their West Loop flagship. What are the options for your visit? You can book a tour to learn all about their process (including all the fun scientific details) and/or visit their cocktail room for dinner and drinks. We were lucky to sample a large part of their summer drink menu and I was notably impressed by the variety and flavor balance of all of the drinks. The staff built them to truly highlight their products and their creativity shines through in each one.
Here were the ones we got to enjoy: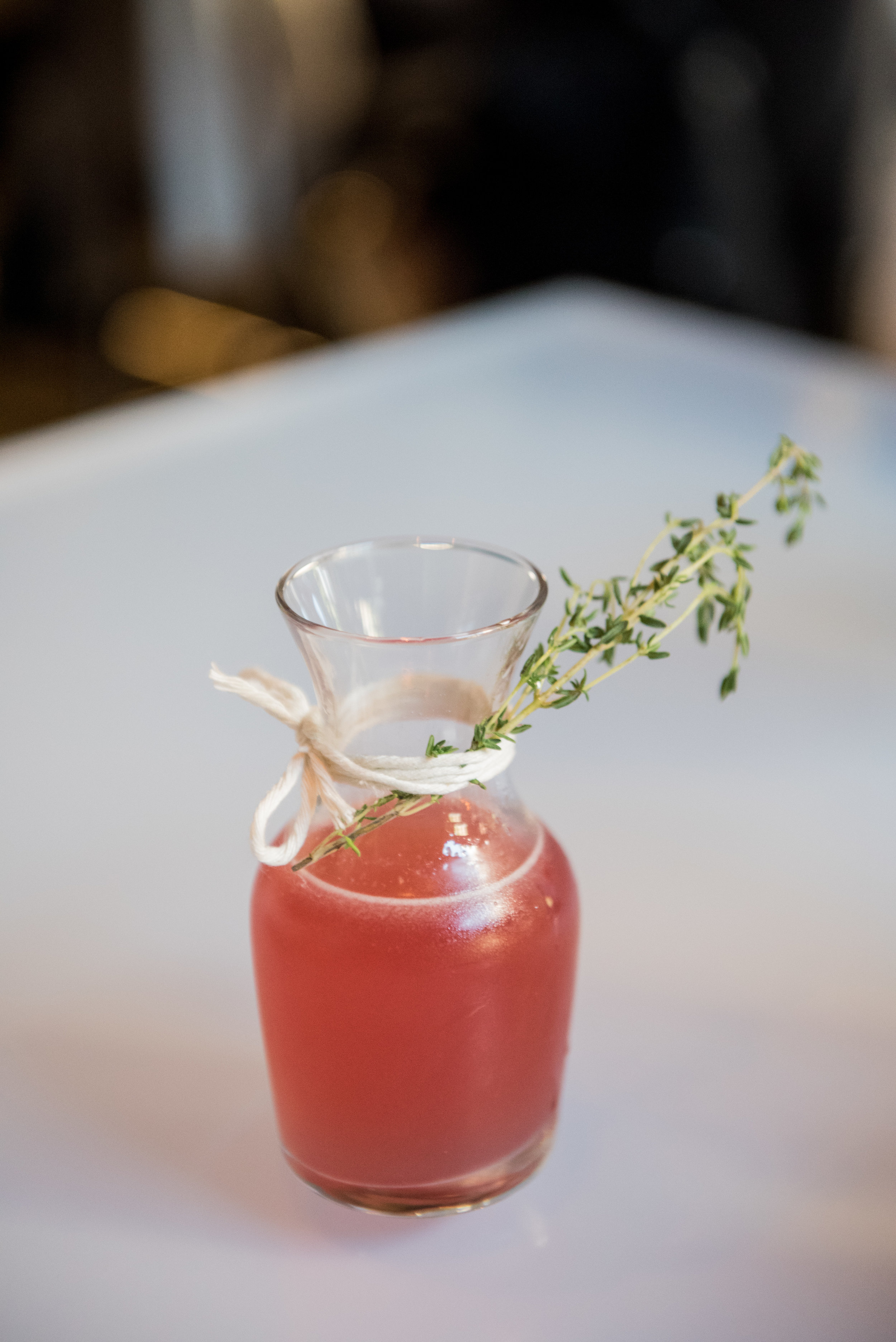 CH Rum, CH Vrrrmrrf, Fig, Lime
(Tart at the start, vanilla and spice on the finish)
 
CH Dogma Rubin, CH Key Gin, Raspberry, Lime
(Citrus and fruit notes balanced by bitterness)
CH Vodka, Strawberry, Red Bell Pepper, Cucumber, Serrano Pepper
(Sweet and earthy)
CH Aquavit, Tonic, Lime
(You must try this if you enjoy Aquavit)
CH Vodka, CH Rum, Beet, Hibiscus, Lemongrass, Serrano Pepper, Fennel, Lemon
(Tangy and spicy)
CH London Dry Gin, Strawberry, Mint, Celery
(Refreshing with a savory finish)
I would gladly have each cocktail again in the future but found myself particularly gravitating toward Jesse's Girl and Baby Sharks. What impressed me most was how the CH bar team incorporated savory and bitter flavors to appeal to a wide range of palates. They've inspired me to take advantage of fresh summer produce and push my own boundaries with mixing unexpected flavors.
Last but not least, I appreciated the company of everyone I met while visiting CH Distillery both on this and prior visits. Their staff is knowledgeable, passionate and, most importantly, fun. It was clear that they love what they do and that they seek to create a unique experience for their patrons. Let me know how you like it if you pay them a visit! In the meantime, check out a few more photos of my trip below: